Revisiting the Might of the Bugatti EB110 Supersport
---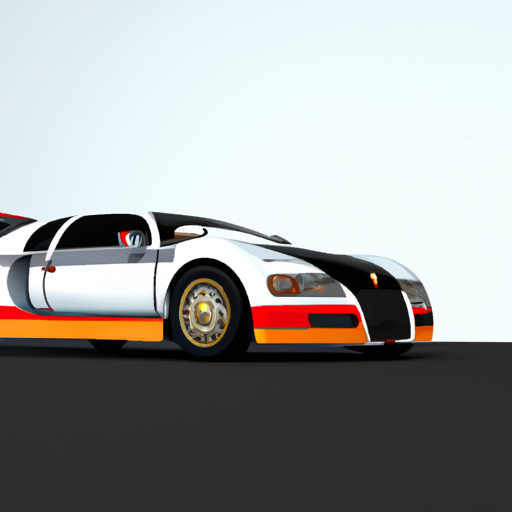 Introduction
Welcome to the world of high-performance machinery, where speed and luxury are not merely attributes but the essence of existence. Today, we will shed light on one incredibly iconic car that has been a benchmark in automotive engineering, the Bugatti EB110 Supersport.
A brainchild of Romano Artioli, the Bugatti EB110 was born to revive the prestigious Bugatti name, with its production starting from 1991 to 1995. A car that boasts a heritage as illustrious as the Bugatti, and a performance marvel that reverberates in the annals of supercar history, the EB110 Supersport is an ode to refined Italian design and cutting-edge technology.
This post will unpack the rare brilliance of the Bugatti EB110 Supersport, exploring its design, performance, technology, and much more. So buckle up as we embark upon a fascinating automotive journey.
Let us first delve into discussing the stunning design facets and aesthetic value this car brings to the table.
Design and Aesthetic
One glance at the Bugatti EB110 Supersport, and it's indisputably clear that this vehicle is a feat of design. The brain behind its breathtaking looks is designer Marcello Gandini, known for designing the Lamborghini Countach and Lamborghini Miura.
The car immediately stands out because of its striking and assertive lines. With its wedge-shaped body, the car has a distinctive 90's appeal to it, while still resonating with the modern design philosophy. Leaning towards minimalistic yet focused aesthetics, this vehicle is undeniably a head-turner.
The charming tubular frame girders of carbon fiber composite body define the car's exterior. The large side vents feeding the charge coolers are a prominent feature. Recessed pillars supporting the detachable roof panel and air ducts over the rear wheel arches elegantly beautify the car's side profile.
Wrapping up the design narrative is the high-mounted quad exhaust system over a bespoke diffuser. It's these elements collectively that merge to form the spectacularly stunning Bugatti EB110 Supersport.
Performance and Specifications
Under the hood, the Bugatti EB110 Supersport boasts a mid-mounted 3.5 liters quad-turbocharged V12 engine. This supercar unleashes a whopping 612 horsepower and 651 Newton meters of torque, making it a beast on the road.
Further amplifying the performance is its six-speed manual transmission and four-wheel-drive technology. It sprints from 0 to 60 mph in just over 3 seconds, hitting a top speed of 216 mph. It's safe to say that these figures were lightyears ahead in terms of performance during the car's release. Remarkably, these figures even rival the performance of many modern supercars.
The high-performance braking system, encompassing carbon-ceramic discs and six-piston calipers, adds to its secure ride quality. Additionally, the dual wishbone suspension system contributes to improved handling abilities.
To sum up, Bugatti EB110 Supersport's specifications and performance decidedly accord it a top spot in the automotive realm, making it a paragon of modern engineering expertise.
Technology and Features
The Bugatti EB110 Supersport is no less than a technological marvel. It offers plenty of pioneering features for its time. The car comes with automatic air conditioning, a CD player, and Poltrona Frau leather. The innovative four-wheel-drive system has a complex six-speed gearbox that exhibits its technological superiority.
In addition, its carbon fiber-reinforced polymer chassis, Brembo brakes, double wishbone suspension, and adjustable ride height are a few other phenomenal features. These features not only enhance the comfort and ride quality but also provide remarkable control while driving at high speeds.
However, the piezoelectric fuel injectors take the crowning glory by ensuring efficient fuel supply. While the car seemed to lack driver aids and connectivity features, none of it took away the car's astronomical brilliance.
In essence, Bugatti EB110 Supersport does not just stand out for its unmatched performance, but also for the impressive technological features it encompasses.
Price
When launched, the base price of Bugatti EB110 Supersport was about $350,000, which was a staggering amount back in the mid-nineties. With inflation and collector premiums, these cars now fetch seven-figure sums.
Given its limited production run of just 33 units, the Bugatti EB110 Super Sport tends to be a worthy investment. It isn't unusual for these cars to be auctioned off well over a million dollars.
However, what you're procuring is not just an automobile but a marvel of engineering draped in the resplendence of luxury. The Bugatti EB110 Supersport truly is the embodiment of exclusivity and grandeur.
To put it succinctly: acquiring a Bugatti EB110 Supersport is a timeless investment in automotive luxury and performance.
Legacy and Cultural Impact
The Bugatti EB110 Supersport is much more than a high-performance luxury sports car. It's a motor legend that left a significant impact on contemporary culture. The car finds its place in music videos, films, and even video games, thereby ingraining its charm among various generations.
Its futuristic design and top-notch performance have inspired many carmakers. Its spirit is echoed in subsequent Bugatti models, including the Veyron and the Chiron that toe the line of its legacy.
The EB110 Supersport is not just a car; it's a piece of art that's appreciated by car enthusiasts and collectors alike. Its rarity, combined with historic value, solidifies its cultural impact and influences.
Thus, the Bugatti EB110 Supersport is indeed a cultural legend that forever pushed the boundaries of automotive engineering.
Racing History
Although the Bugatti EB110 Supersport is primarily a luxury sports car, it does have a solid racing history. Its track variant, called the EB110 LM, raced in the 24 Hours of Le Mans in 1994.
The car's impressive performance on the racetrack is a testament to the vehicle's superior engineering capabilities. While it may not have been built specifically for racing, the EB110 Supersport's racing pedigree cannot be overlooked. This attribute does add another feather to its already bulky cap.
Therefore, the EB110 Supersport's racing lineage is as impressive as its road-going capabilities and bolsters its reputation as a versatile supercar.
Conclusion
Ending our detailed encounter with the iconic Bugatti EB110 Supersport, it's clear that this car is a work of passion, a product of tremendous talent, and a timeless legend in the automotive sphere.
Whether it's the stunning design, groundbreaking technology, powerful performance, or its cultural impact, the EB110 Supersport is indeed a marvelous spectacle on wheels.
Moreover, the astronomical price tag and the limited production run give it an aura of exclusivity that few supercars can match. A true marvel of automotive engineering, this car continues to be the benchmark by which other cars are measured.
In conclusion, the Bugatti EB110 Supersport is not merely a car; it's an emotion, a symbol of excellence, and a topic of fascination for car aficionados around the globe.